Check your policies for leave inflexibility
Posted October 18, 2018
While the Family and Medical Leave Act (FMLA) requires covered employers to provide up to 12 weeks of job-protected leave for certain reasons, employers need to look beyond the FMLA in regard to whether additional leave may be called for – and also protected. Some employers have policies indicating that, if an employee fails to return to work after the 12 weeks of FMLA leave, the action is seen as a voluntary resignation.
One employer must now work to defend its policy that stated that "absent unusual circumstances, an employee on an FMLA leave is expected to return at the end of the granted period of time, but no more than 12 weeks. An employee failing to return to work on the scheduled return date after an FMLA leave will be considered to have voluntarily resigned."
Such a policy would likely not violate the FMLA, but it could violate other laws, such as the Americans with Disabilities Act (ADA).
The issues in the case began when the employee had knee replacement surgery in May 2016. He requested and was granted leave for 12 weeks with a return date of August 9. The employee could not, however meet the August 9 return date, and informed his company of this. The company required that he provide updated information, and on August 12, he asked for an additional five days to provide it. Instead, however, he was terminated.
He filed suit, alleging that the company violated the FMLA, as well as state and federal age and disability discrimination laws. The company moved for summary judgement October 3, 2018 on the FMLA claims. While the outcome of the case is off in the future, the employer might succeed against the FMLA claim, but the ADA claim has been allowed to proceed.
The case, albeit yet to be decided, serves as a reminder to employers that, just because an employee exhausts all 12 weeks of FMLA leave does not mean that he or she abdicates rights under other laws. The intersection between the FMLA and the ADA has been the basis of a number of lawsuits, so employers should ensure that their workplace policies go beyond just the FMLA, and consider employee rights under other laws.
Thompson v. Gold Medal Bakery, Inc., District Court of Massachusetts, 1:18-cv-10410
---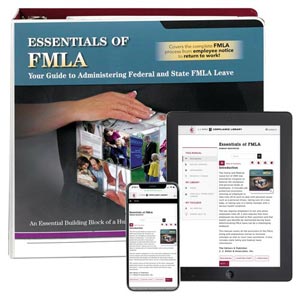 J. J. Keller's Essentials of FMLA manual helps HR pros understand and comply with the FMLA rules, control costs related to leave taken, and minimize the law's potential disruption to their organizations' operations.
---
J. J. Keller's FREE HRClicks™ email newsletter brings quick-read human resources-related news right to your email inbox.