Fire Prevention Week sends the message that Every Second Counts
Posted October 6, 2017
Fire Prevention Week, sponsored by the National Fire Protection Association (NFPA) will be observed from October 8-14, 2017. The theme this year is "Every second counts. Plan 2 ways out!"
NFPA says that most home fires result from cooking, smoking, electrical problems, heating equipment, and arson — and fire can spread quickly. Being prepared, and having an escape plan, can mean the difference between escaping safely from a fire or having a fire end in tragedy.
So it's important to have and practice a home escape plan. NFPA urges everyone to take the following actions:
Use the grid available from NFPA to draw a map of your home, and indicate two exits from each room along with a path to the outside from each exit.
Conduct home fire drills at least twice a year, with one at night and the other during the day. Practice using different exit routes.
Show children how to escape by themselves, in case an adult is not available to help them.
Close doors behind you as you make your way out of the house to slow the spread of the fire.
Designate an outside meeting place that is a safe distance away from your home. The meeting place should be something that will not move, such as a neighbor's house, a tree, or a light pole.
Remind everyone to stay outside after they make their escape. Never go back inside a burning building.
NFPA is also highlighting Home Fire Drill Day, a safety action created by Nationwide® and the National Safety Council. The day will be observed on October 14 to mark the end of Fire Prevention Week.
Fire safety in the workplace
While Fire Prevention Week focuses on preventing and responding to residential fires, employers can use the campaign to draw attention to fire safety in the workplace. OSHA requires employers to train workers on the fire hazards in the workplace and how to respond in a fire emergency. Employers who want their workers to evacuate must train them on how to escape. Employers who expect workers to use firefighting equipment must train them to use the equipment safely.
OSHA's fire safety regulations address emergency fire exits, portable fire extinguishers, fire prevention plans, and emergency action plans.
---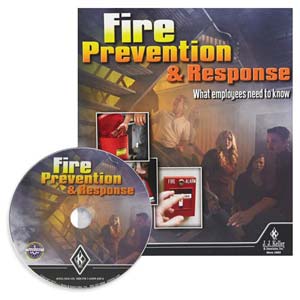 J. J. Keller's Fire Prevention & Response: What Employees Need to Know - DVD Training helps teach employees about fire hazards in the workplace and what to do in case of a fire.
---
J. J. Keller's FREE Workplace SafetyClicks™ email newsletter brings quick-read workplace safety and compliance news right to your email box.