EPA closer to repealing Obama-era Clean Power Plan
Posted October 12, 2017
On October 10, EPA Administrator Scott Pruitt signed a proposal to repeal the Obama-era regulation known as the Clean Power Plan (CPP). EPA proposed to determine that the plan exceeds EPA's statutory authority. According to Pruitt, repealing the plan will also facilitate the development of U.S. energy resources and reduce unnecessary burdens associated with the development of those resources. The Administrator cited the Trump administration's Executive Order on Energy Independence as one factor in the Agency's decision.
EPA says the previous administration overstepped its bounds with the plan. "The CPP was premised on a novel and expansive view of Agency authority that the Trump administration now proposes to determine is inconsistent with the Clean Air Act."
Pruitt also said that the CPP ignored states' concerns and degraded certain environmental partnerships. The Agency will move forward to assess whether further regulatory action is warranted.
At issue, the EPA asserts, is the CPP's requirement that regulated entities take actions "outside the fence line." Traditionally, Section 111 of the Clean Air Act called for "inside the fence line" measures. In fact, before the CPP was issued, "every single Section 111 rule on the books, including a handful of existing source rules and around 100 new-source rules, obeyed this limit."
The proposed rule to repeal the CPP will include a preamble discussion, which will describe the proposed legal interpretation and policy implications, and summarize the cost-benefits analysis of repealing the rule. In addition, the proposal will provide a Regulatory Impact Analysis.
EPA claims that the Obama administration's estimates and analysis of the costs and benefits of the CPP were highly uncertain or controversial. Further, EPA says that repealing the CPP will save up to $33 billion in avoided compliance costs in 2030.
---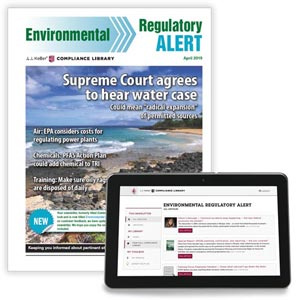 J. J. Keller's Environmental Alert: The Compliance Guide for Safety Professionals helps you stay on top of the latest environmental enforcement issues.
---
J. J. Keller's FREE Workplace SafetyClicks™ email newsletter brings quick-read workplace safety and compliance news right to your email box.