Consumer protection agency asks manufacturers to stop using certain flame retardants in products
Posted October 3, 2017
The Consumer Product Safety Commission (CPSC) published guidance for manufacturers, importers, distributors, retailers, and consumers of products containing certain flame retardants.
The CPSC says it is working to protect consumers and children from the potential toxic effects of exposure to harmful organohalogen flame retardants (OFRs) in additive form. The Commission advises manufacturers of children's products, upholstered furniture sold for use in residences, mattresses and mattress pads, and plastic casing surrounding electronics to stop intentionally adding OFRs to their products. Further, the CSPC recommends that, before purchasing such products for resale, importers, distributors, and retailers obtain assurances from manufacturers that the products do not contain OFRs.
In addition, the Commission urges consumers who are pregnant or who have young children to obtain assurances from retailers that such products do not contain OFRs.
OFRs, also known as halogenated flame retardants, are often added to foams, textiles, and polymers before, during, or after production to improve their resistance to fire. The problem is that OFRs are not chemically bound to the material and may be released from the product, which can lead to human and environmental exposures.
In 2015, a coalition of consumer advocates and health professionals petitioned the CPSC to declare four categories of consumer products containing OFRs to be "banned hazardous substances" under the Federal Hazardous Substances Act (FHSA). The petitioners claim that OFRs, among other things, are toxic, migrate widely out of products regardless of how the products are used, bioaccumulate, and present a serious public health concern.
On September 20, 2017, the Commission voted to grant the petition to initiate rulemaking under the FHSA and directed the staff to convene a Chronic Hazard Advisory Panel under section 28 of the Consumer Product Safety Act to further study the effects of these OFRs as a class of chemicals on consumers' health. In the meantime, based on the overwhelming scientific evidence, the Commission has serious concerns regarding the potential toxicity of OFRs from the four categories of products listed in the petition.
Known negative health effects of OFRs include: reproductive impairment; neurological impacts; endocrine disruption and interference with thyroid hormone action (potentially contributing to diabetes and obesity); genotoxicity; cancer; and immune disorders. These chemicals have a disproportionately negative health effect on vulnerable populations, including children.
---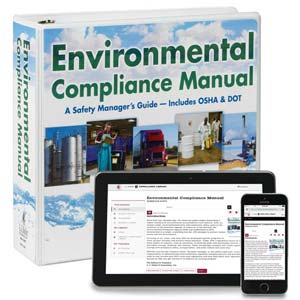 J. J. Keller's Environmental Compliance Manual is packed with easy-to-understand information on regulations, environmental issues and compliance.
---
J. J. Keller's FREE Workplace SafetyClicks™ email newsletter brings quick-read workplace safety and compliance news right to your email box.