NTSB: Driver fatigue, drug use caused fatal Tennessee work-zone crash
Posted October 7, 2016
The National Transportation Safety Board (NTSB) determined that a semitractor-trailer driver's fatigue, methamphetamine use, and failure to respond to slow-moving traffic within a work zone resulted in the 2015 multi-vehicle crash near Chattanooga, Tennessee, in which six people died and four were injured.
A semitractor-trailer was traveling northbound on Interstate 75 on June 25, 2015, as traffic slowed while entering a marked work-zone. The truck driver failed to slow with the traffic and instead collided at highway speed with the rear of a sedan, starting a crash sequence that ultimately involved seven other vehicles and a total of 18 people.
Safety recommendations
Based upon the results of the NTSB's investigation of the crash, the agency issued a total of seven new safety recommendations including four issued to the Federal Motor Carrier Safety Administration (FMCSA), two to the Tennessee Highway Patrol and the Tennessee Department of Transportation, and one to the Kentucky Transportation Cabinet and the Idaho Transportation Department.
The recommendations address issues including the truck driver's performance, drug testing programs, inadequacies of driver license records and background checks, and the overrepresentation of trucks compared to other vehicles in work zone crashes.
Factors that caused the accident
The NTSB said in its report that although the truck driver had an opportunity for overnight rest before the crash, he had likely gone without sustained rest for 40 hours prior to the accident. Also contributing to the crash was the failure of the pre-employment screening process to identify driver risk factors. The final report notes, for example, that the motor carrier did not have the truck driver's entire driving history, including previous accidents, which limited its ability to assess his safety performance and potential risk.
The truck driver's post-accident drug test revealed methamphetamine use. The NTSB found no prescription for its use by the truck driver and concluded that the truck driver illegally used methamphetamine prior to the crash and the effects of the drug degraded his driving performance. The NTSB reiterates its December, 2015 recommendation to FMCSA to determine the prevalence of the use of impairing substances by commercial motor vehicle operators.
The NTSB's report also highlights that the number of trucks involved in fatal crashes in work zones is disproportionately higher than the number of other vehicles involved in fatal crashes in work zones. Speeding, distraction, and impairment are key factors in these crashes. The NTSB reiterates its September, 2015 recommendation to FMCSA to amend guidance on the use of supplemental traffic control strategies and devices for work zone projects.
---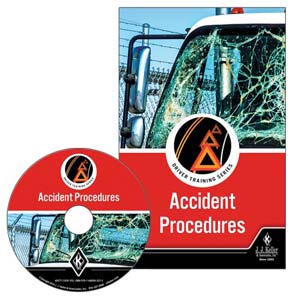 J. J. Keller's Driver Training Series: Accident Procedures - DVD Training provides step-by-step procedures for what to do after a crash.
---
J. J. Keller's FREE Transportation SafetyClicks™ email newsletter brings quick-read safety and compliance news right to your email box.