Employment experts weigh in on using big data in hiring decisions
Posted October 19, 2016
Big data —the use of algorithms, "data scraping" of the internet, and other means of evaluating tens of thousands of pieces of information — is already being used to make hiring and other employment decisions. At an October 13 public meeting held at the U.S. Equal Employment Opportunity Commission (EEOC) headquarters in Washington, D.C., a panel of industrial psychologists, attorneys, and labor economists met to share their views on the use, scope, and future of big data.
Expert input
"Big data has the potential to drive innovations that reduce bias in employment decisions and help employers make better decisions in hiring, performance evaluations, and promotions," said Chair Jenny R. Yang. "At the same time, it is critical that these tools are designed to promote fairness and opportunity, so that reliance on these expanding sources of data does not create new barriers to opportunity."
Dr. Kelly Trindel, Chief Analyst in the EEOC's Office of Information, Research, and Planning, shared possible big data outcomes that would generate concern. "If the training phase for a big data algorithm happened to identify a greater pattern of absences for a group of people with disabilities, it might cluster the relevant people together to create a 'high absenteeism risk' profile. The profile need not be tagged as 'disability'— rather it might appear to be based on some group of financial, consumer, or social media behaviors."
Dr. Eric M. Dunleavy, Director of the Personnel Selection and Litigation Support Services Group at DCI Consulting, spoke on behalf of the Society for Human Resource Management (SHRM). Dunleavy observed, "The question of whether employers can leverage contemporary big data for employment decision-making has been answered in the affirmative. Whether employers should do so, and how to go about it in their particular situation, are separate questions."
Submitting comments
The EEOC will hold open the October 13, 2016, Commission meeting record for 15 days, and invites audience members, as well as other members of the public, to submit written comments on any issues or matters discussed at the meeting. Public comments may be mailed to Commission Meeting, EEOC Executive Officer, 131 M Street, N.E., Washington, D.C. 20507, or emailed to Commissionmeetingcomments@eeoc.gov.
---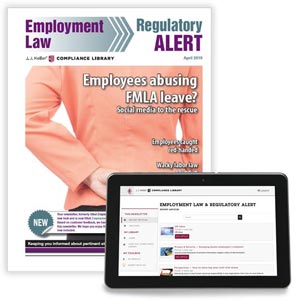 J. J. Keller's Employment Law Today newsletter explains why you need to care, what you need to do and how your business could be affected by HR industry news.
---
J. J. Keller's FREE HRClicks™ email newsletter brings quick-read human resources-related news right to your email inbox.