As fall harvest arrives, OSHA urges grain-handling workers to be vigilant
Posted October 17, 2016
OSHA warns that five seconds is all it takes for flowing grain to engulf and trap a worker. In 60 seconds, the worker is submerged and is in serious danger of death by suffocation. More than half of all workers engulfed in grain die this way. Many others suffer permanent disability.
An "engulfment" often happens when "bridged" grain and vertical piles of stored grain collapse unexpectedly. Engulfments may occur when employees work on or near the pile or when bin augers whirl causing the grain to buckle and fall onto the worker. The density, weight, and unpredictable behavior of flowing grains make it nearly impossible for workers to rescue themselves without help.
As Midwestern farmers reap this year's harvest, OSHA urges industry employers and workers to fully implement safety and health programs including procedures for controlling hazardous energy, safe bin entry, and housekeeping to avoid additional tragedies.
Since January 2016, Nebraska and Kansas' grain-handling industry has had two fatalities and four preventable work-related incidents, according to OSHA. OSHA has opened investigations for these fatalities and incidents. A few of the incidents occurred as follows:
May 19, 2016: A 53-year-old employee suffered severe injuries on May 18, 2016, as he worked in a grain bin in West Point, Nebraska. The maintenance worker was in a grain bin when a wall of corn product collapsed and engulfed him. He died of his injuries two days later.
September 1, 2016: A 59-year-old employee suffered severe injuries to his leg when the sweep auger inside a bin caught his coveralls at a Litchfield, Nebraska company.
September 19, 2016: A 28-year-old employee in Ellsworth, Kansas, had his left leg amputated when he stepped into an open auger well inside a grain bin while the auger was running.
OSHA says it is taking action to protect workers and educate the industry by working with leaders in the agri-business community to raise awareness of grain-handling hazards.
Additionally, OSHA's Grain Handling Industry Local Emphasis Program focuses on the grain and feed industry's six major hazards: engulfment, falls, auger entanglement, "struck by," combustible dust explosions and electrocution hazards.
---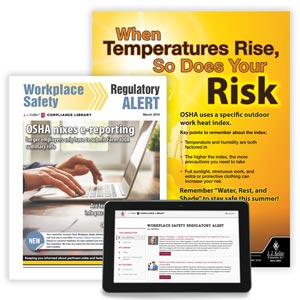 J. J. Keller's Workplace Safety Advisor newsletter delivers up-to-date workplace safety and compliance news every month.
---
J. J. Keller's FREE Workplace SafetyClicks™ email newsletter brings quick-read workplace safety and compliance news right to your email box.