IRS: Proposed rulemaking defines terms relating to marital status
Posted October 27, 2015
On October 22 the Internal Revenue Service (IRS) published proposed regulations in the Federal Register to define terms in the code describing the marital status of taxpayers. The proposed regulations primarily affect married couples, employers, sponsors, and administrators of employee benefit plans, and executors.
The proposed rules would amend the current regulations under section 7701 of the IRS code to provide that, for federal tax purposes, the terms ''spouse,'' ''husband,'' and ''wife'' mean an individual lawfully married to another individual, and the term ''husband and wife'' means two individuals lawfully married to each other. These definitions apply regardless of sex.
In addition, these proposed regulations provide that a marriage of two individuals will be recognized for federal tax purposes if that marriage would be recognized by any state, possession, or territory of the United States.
The IRS invites comments from the public regarding the proposed regulations. Written or electronic comments and requests for a public hearing must be received by December 7, 2015.
---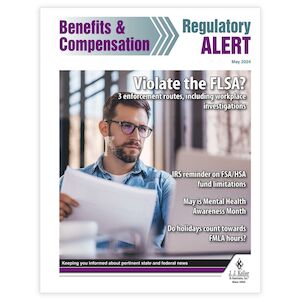 J. J. Keller's BottomLine Benefits & Compensation is an 8-page, monthly newsletter that addresses key issues relating to benefits and compensation programs.
---
J. J. Keller's FREE HRClicks™ email newsletter brings quick-read human resources-related news right to your email inbox.