FMLA: Manager training is cheaper than a lawsuit
Posted October 16, 2015
Even with an employee who would otherwise logically and legally been terminated, an inappropriate statement and action from a manager can doom an employer's case. Truth is stranger than fiction.
Case in point
Jim, an employee, had some communications issues. He made comments to his coworkers that were unprofessional and generally inappropriate. While his coworkers were targets, the employee didn't stop there. Here's a rundown of his exploits:
When told by the department manager to act more professionally when dealing with a particular coworker, Jim responded that he would never back down if he felt he was defending himself.
Jim sent an email to another coworker indicating that he better get in to work on Sunday after "winning that award yah hay shacker." The recipient felt this was offensive and inappropriate.
After being told to end his comments to another co-worker, Jim responded that the coworker "deserved a shot."
Jim sent one of his coworkers an email telling the coworker "you're my bi---."
A month later, Jim sent an email to his supervisor referring to a co-worker, saying "if he has 1 negative thing to say about me per our conversation, I want to hear about it immediately. He had a mad [sic] attitude and I defended myself professionally. No more of this nonsense in my review."
When his wife visited him at work, Jim introduced her by stating, "This is my bi---."
Another email to one of his coworkers indicated "As an apprentice, you should really show more respect for your…elders. I can do this all day and I will get the last shot as you thru [sic] the first one."
Despite all this, Jim received a 3.5 out of 5 rating on his performance review (folks, it pays to be honest on those reviews). Yet, the decision was made to terminate Jim. He continued to be unprofessional to the end, with the police being called to have him removed from the premises.
Unfortunately, two weeks before he was fired, Jim had requested FMLA leave to care for his son. Three days before the termination, he submitted his certification form. Upon receiving Jim's request for leave, his manager was outwardly disappointed, and told Jim that he was expected to work because the company paid for his insurance.
According to the court, this statement strongly suggests discriminatory intent because an employee is entitled to continue health coverage during FMLA leave. The court also wondered why, if Jim was already on his way to being fired, his supervisor would be upset about him taking time off. One would think the supervisor would embrace Jim's absence.
So, despite the employer's argument that Jim was fired because of his poor communication, the manager's comments and actions of frustration doomed the employer's attempt for summary judgment. Some simple manager training could have easily avoided the suit. Now, the employer may face attorney's fees and other costs.
Hefti v. Brunk Industries, Inc., U.S. District Court, E.D. WI, No. 14-C-729, September 23, 2015
---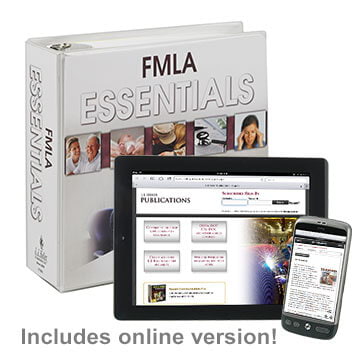 J. J. Keller's FMLA Essentials manual helps HR pros understand and comply with the requirements, control costs related to leave taken and minimize the law's potential disruption to their organizations' operations.
---
J. J. Keller's FREE HRClicks™ email newsletter brings quick-read human resources-related news right to your email inbox.