DOL to impose rule requiring overtime pay for in-home care employees
Posted October 29, 2015
The Department of Labor (DOL) issued a policy statement on October 27 regarding the Fair Labor Standards Act (FLSA) overtime rule for domestic service. The court decision upholding the rule took effect October 13, however the DOL will not enforce the rule until November 12. This will allow time for employers to comply.
Additionally, from November 12, 2015 through December 31, 2015, the DOL will exercise prosecutorial discretion (deferred action) pursuant to its previously announced time-limited non-enforcement policy.
In 2014, the DOL published a regulation that requires third-party providers to pay overtime to employees giving in-home care. Under the regulation, employees working for a third party can be exempt from overtime if they primarily provide companionship services, but must receive overtime if they provide care. Individuals hired directly by a client are still exempt from overtime, even if providing care.
The regulation was scheduled to take effect on January 1, 2015, but a district court struck it down. Then, on August 21, the federal District of Columbia Court of Appeals overturned that decision, but the court waited to reinstate the rule to allow for consideration of appeal to the U.S. Supreme Court. There was no appeal, so the rule took effect October 13.
---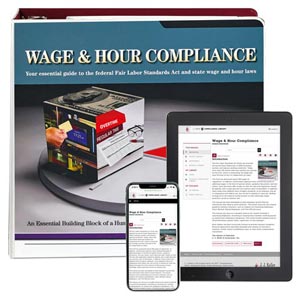 J. J. Keller's Wage and Hour Compliance with FLSA Manual provides critical info to help you comply with the Fair Labor Standards Act (FLSA) and state wage and hour laws.
---
J. J. Keller's FREE HRClicks™ email newsletter brings quick-read human resources-related news right to your email inbox.