Snow chains in summer-Thats right
Posted September 8, 2023
It may be nearing early autumn right now, and the thought of snow and ice isn't even on the minds of most. But, did you know some states require commercial motor vehicles to carry snow chains, tire cables, or alternative traction devices as early as September 1st?
It's important to know what each state in which you operate requires or allows in regard to winter travel. This would include:
Compliance dates,
Vehicle definitions, and
Any prohibitions (e.g., studded tires).
It is advisable that the carrier research/contact each state and province in which the driver is traveling to gain basic facts such as these. This information should be communicated to the appropriate parties (e.g., drivers, dispatchers, fleet technicians) so your vehicles are properly equipped.
This article was written by Kathy Close of J. J. Keller & Associates, Inc.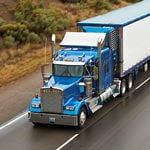 Looking for more on transportation safety?
Get the information and products you need to stay on top of industry changes and comply with regulations.