OSHA steps up silica enforcement in stone fabrication, installation industries
Posted September 29, 2023
OSHA will step up silica enforcement in the engineered stone fabrication and installation industries. This new initiative supplements the agency's current National Emphasis Program (NEP) for Respirable Crystalline Silica and establishes procedures for prioritizing inspections in covered industries where workers face exposure to high levels of silica dust.
Industries subject to prioritized programmed inspections include those engaged in Cut Stone and Stone Product Manufacturing as well as Brick, Stone, and Related Construction Material Merchant Wholesalers.
OSHA will send affected employers and stakeholders information on the initiative, including fact sheets on dust control methods and safer work practices for engineered stone manufacturing, finishing, and installation operations.
This article was written by Rachel Krubsack of J. J. Keller & Associates, Inc.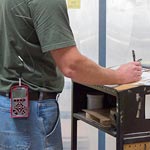 Looking for more on workplace safety?
Get the information and products you need to stay on top of industry changes and comply with regs.