OSHA proposes changes to authorized employee representation during workplace inspections
Posted September 2, 2023
OSHA proposes expanding the criteria for who employees can authorize to act as their representative to accompany OSHA compliance officers during workplace inspections, under a proposed rule issued August 30. Specifically, the proposal clarifies that employees may authorize an employee or a non-employee third party if the compliance officer determines the third party is reasonably necessary to conduct an effective and thorough inspection.
The proposed changes also clarify that third-party representatives are not limited to industrial hygienists or safety engineers, two examples included in the current regulation at 1903.8(c). OSHA says third-party representatives may be reasonably necessary because they have skills, knowledge, or experience that may help inform the inspection. This may include experience with particular hazards, workplace conditions, or language skills that can improve communications between OSHA representatives and workers.
OSHA seeks comment until October 30 on three specific questions. See Docket number OSHA-2023-0008 at regulations.gov.
This article was written by Rachel Krubsack of J. J. Keller & Associates, Inc.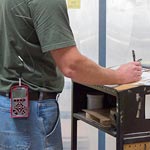 Looking for more on workplace safety?
Get the information and products you need to stay on top of industry changes and comply with regs.