National Preparedness Month focuses on preparing for disasters and emergencies
Posted September 15, 2023
National Preparedness Month is observed every September to raise awareness about the importance of preparing for natural disasters and other emergencies. This year's theme is "Take Control in 1, 2, 3," and the campaign's focus is on preparing older individuals for disasters.
Emergency managers and those who work with and support older adult communities, can use the resources provided during National Preparedness Month to ensure they are prepared before disasters and emergencies occur. Older adults tend to be at greater risks from the impacts of extreme weather events and emergencies, especially if they live alone, are disabled, are low- or fixed income, or live in rural areas. Before a disaster or emergency strikes, people should:
Assess their needs. This includes understanding all variables that may factor into what may be needed to ensure safety during a disaster or emergency.
Make a plan. Plans should be tailored to ensure needs are met.
Engage their support network. Reach out to family, friends, and neighbors who can provide support in case of disaster or emergency.
Additional information about this year's campaign can be found at ready.gov.
This article was written by Carmen King of J. J. Keller & Associates, Inc.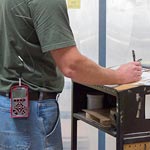 Looking for more on workplace safety?
Get the information and products you need to stay on top of industry changes and comply with regs.