Enforcement priorities revealed in new EEOC plan
Posted September 22, 2023
On September 21, the U.S. Equal Employment Opportunity Commission (EEOC) released its Strategic Enforcement Plan (SEP) for Fiscal Years 2024 – 2028.
The SEP lists the agency's priorities in its mission to combat unlawful employment discrimination. By addressing illegal conduct, the EEOC strives to create fair and inclusive workplaces with equal opportunity for all U.S. workers.
Using public feedback, the EEOC updated its prior SEP continuing its focus on:
Combatting pay discrimination,
Advancing equal pay,
Preventing and remedying systemic harassment, and
Addressing retaliation.
Highlights of the updated SEP
Changes to the EEOC's enforcement plan include:
Targeting discrimination, bias, and hate directed against religious minorities (including antisemitism and Islamophobia), racial or ethnic groups, and LGBTQI+ individuals.
Expanding the vulnerable and underserved worker priority to include additional categories of workers who may be unaware of their rights under equal employment opportunity (EEO) laws, may be reluctant or unable to exercise their legally protected rights or have historically been underserved by federal employment discrimination protections.
Updating the emerging and developing issues priority to include protecting workers affected by pregnancy, childbirth, or related medical conditions, including under the new Pregnant Workers Fairness Act (PWFA) and other EEO laws; employment discrimination associated with the long-term effects of COVID-19 symptoms; and technology-related employment discrimination.
Highlighting the continued underrepresentation of women and workers of color in certain industries and sectors, such as construction and manufacturing, finance, tech and other science, technology, engineering, and mathematics fields.
Recognizing employers' increasing use of technology, including artificial intelligence and machine learning, to target job advertisements, recruit applicants, and make or assist in hiring and other employment decisions.
Preserving access to the legal system by addressing overly broad waivers, releases, non-disclosure agreements, or non-disparagement agreements when they restrict workers' ability to obtain remedies for civil rights violations.
In addition to enforcement of anti-discrimination laws, the EEOC is also committed to preventing discrimination. The new SEP commits the agency to supporting employer efforts to:
Identify and address barriers to equal employment opportunity,
Cultivate a diverse pool of qualified workers, and
Foster inclusive workplaces.
The public weighed in
To obtain public input on the SEP, the EEOC hosted three listening sessions that focused on racial and economic justice, vulnerable workers, and other issues related to the EEOC's priorities.
The agency heard from nearly three dozen witnesses representing civil rights and workers' rights organizations; employer and HR representatives; and attorneys representing plaintiffs and defendants in EEO matters.
The EEOC also published the SEP in the Federal Register for public comment and considered those comments in developing the final plan.
"Through the SEP's effective implementation, the agency will continue to advance equality and justice for all in workplaces across this nation, even as significant challenges remain," said EEOC Chair Charlotte A. Burrows.
This article was written by Judy Kneiszel of J. J. Keller & Associates, Inc.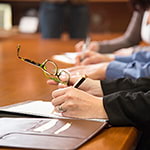 Looking for more on HR compliance?
Get the information and products you need to stay on top of industry changes and comply with regs.