Proposed NLRB Joint Employer Rule could create more liability for employers
Posted September 9, 2022
On September 6, the National Labor Relations Board (NLRB) released a Notice of Proposed Rulemaking (NPRM) about the standard for determining joint employer status under the National Labor Relations Act (NLRA).
The notice seeks to rescind and replace the joint employer rule that took effect on April 27, 2020.
Under the proposed rule, two or more employers would be considered joint employers if they "share or codetermine those matters governing employees' essential terms and conditions of employment," such as:
Wages,
Benefits and other compensation,
Work and scheduling,
Hiring and discharge,
Discipline,
Workplace health and safety,
Supervision,
Assignments, and
Work rules.
The NLRB proposes to consider both direct evidence of control and evidence of reserved and/or indirect control over terms and conditions of employment when analyzing joint employer status.
The NLRB joint employer standard has been subject to a great deal of flux in recent years. Rulemaking on this issue allows members of the public to provide input to the NLRB.
Comments on this proposed rule must be received by the NLRB on or before November 7, 2022.
What should employers do?
Employers should begin reviewing any business relationships they have with staffing agencies, vendors, franchisees, contractors, etc. to look for potential risks should this proposed rule goes into effect.
Any contractual language that shows an employer exhibits some control over a worker's terms or conditions of employment — such as scheduling, compensation, etc. — could inadvertently create a joint employer relationship.
This article was written by Michelle Higgins of J. J. Keller & Associates, Inc.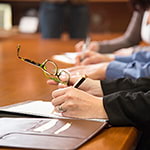 Looking for more on HR compliance?
Get the information and products you need to stay on top of industry changes and comply with regs.