IFTA follows IRP, proposing changes to electronic records requirements
Posted September 9, 2022
IFTA is proposing changes to requirements for electronic records to tightly define what data elements would be required and what formats would be acceptable. Under the proposal, for distance records produced by a vehicle tracking system that utilizes latitudes and longitudes (ELDs and GPS), a record must be created and maintained at a minimum every 10 minutes when the vehicle's engine is on. This action is even more stringent than recent changes for electronic records under the International Registration Plan (IRP), which require minimum record creation rate of every 15 minutes while the engine is on.
Mirroring changes under IRP, data under the IFTA proposal must be accessible in an electronic spreadsheet format such as XLS, XLSX, CSV, or delimited text file. Formats from a vehicle tracking system that provides a static image such as PDF, JPEG, PNG, or Word are not acceptable.
The proposed effective date for the changes — January 1, 2024 — also aligns with changes recently finalized by IRP.
This article was written by Corrina Peterson of J. J. Keller & Associates, Inc.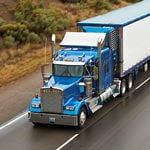 Looking for more on transportation safety?
Get the information and products you need to stay on top of industry changes and comply with regs.