Food inspectors to call OSHA when they spot any worker hazards
Posted September 8, 2022
OSHA updated its memorandum of understanding with the Food Safety and Inspection Service (FSIS) to better protect the safety and health of workers in 6,600 meat, poultry, and egg processing plants. Under the revised memo, which was announced in a recent FSIS press release:
FSIS personnel should report to OSHA any serious work hazards at FSIS-regulated establishments;
FSIS personnel will be trained on 20 serious work hazards that may be found in these establishments;
If FSIS suspects a disease outbreak at an establishment that could affect workers, FSIS will inform OSHA;
FSIS will provide OSHA with attestations from establishments participating in the new poultry and swine inspections systems program; and
OSHA will provide a poster to every FSIS-regulated establishment on how to report injuries to OSHA.
The memo takes effect immediately. It modifies and supersedes the OSHA/FSIS memo signed on February 4, 1994. However, the memo does not limit, supersede, or otherwise affect either agency's normal operations or decisions in carrying out its statutory or regulatory duties.
It is noteworthy that, in 2015, OSHA issued a "Protect Your Health: Report Your Injuries and Illnesses" poster to inform poultry workers of their rights. That poster is currently available in English, Spanish, and Marshallese.
This article was written by Tricia Hodkiewicz of J. J. Keller & Associates, Inc.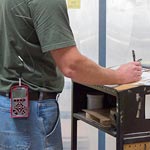 Looking for more on workplace safety?
Get the information and products you need to stay on top of industry changes and comply with regs.