FMCSA provisionally renews short-term rental truck ELD exemption
Posted September 23, 2022
The Federal Motor Carrier Safety Administration (FMCSA) has announced that it will provisionally renew the exemption allowing drivers of trucks that are rented for no more than eight days to use paper logs instead of electronic logging devices (ELDs).
The Truck Renting and Leasing Association (TRALA) submitted the original exemption request in March of 2017. TRALA had asked the agency for an ELD exemption for trucks rented for up to 30 days, but the FMCSA decided that was too long. Instead, in October 2017 the agency published a notice granting the exemption for trucks rented for up to eight days.
Under the exemption, drivers operating short-term rental trucks can use paper logs in the rental vehicle if certain conditions are met, no matter why the vehicle needed to be rented.
The following are the conditions that drivers need to meet to use the exemption:
The rental agreement must be for a term of eight days or less. Carriers cannot replace one rental with another on eight-day cycles or attempt to renew a rental agreement for the same vehicle for an additional eight days without installing an ELD.
Drivers must carry a copy of the rental agreement in the vehicle and make it available to enforcement officers on request. The agreement has to identify the rental company, the renter, the vehicle, and the dates of the rental period.
Drivers must carry a paper or electronic copy of the September 12, 2022, exemption notice with them in the rental vehicle and present it to enforcement officers upon request.
Drivers must carry copies of their logs for the current day and any of the prior seven days on which logs were required.
Finally, motor carriers will need to notify the FMCSA within five days if there's a crash involving a driver using the exemption. The September 12, 2022, Federal Register notice has details on who to contact and what information to submit.
Drivers using the exemption must still comply with all other Federal Motor Carrier Safety Regulations.
The eight-day exemption period coincides with Sec. 395.34(d), which says that motor carriers need to fix malfunctioning ELDs within eight days.
FMCSA is accepting comments on this provisional renewal through October 12, 2022.
Barring any comments that cause FMCSA to reconsider the exemption, the renewal will be in effect for another five years, until October 12, 2027.
This article was written by Daren Hansen of J. J. Keller & Associates, Inc.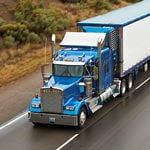 Looking for more on transportation safety?
Get the information and products you need to stay on top of industry changes and comply with regs.