Lessons learned: Employer forced unneeded FMLA leave
Posted September 10, 2021
Months after being diagnosed with Crohn's disease, Beth began taking time off for her condition. The employer asked for a certification, which Beth provided.
The employer, however, thought the certification was incomplete. After asking for clarification, the information in the certification remained unclear. It appeared to indicate that Beth would have one flare-up per week lasting 10 days per episode over the next six months.
The employer eventually accepted a revised certification, despite its continued lack of clarity regarding the estimate for Beth's flareups. The employer, however, did nothing more to try to get any further clarification, but believed the certification indicated that Beth needed a reduced schedule of three days per week.
Instead of getting more clarification, the employer came up with a schedule for Beth of working Mondays, Wednesdays, and Fridays. Beth's doctor, however, did not intend such a rigid schedule, and Beth was not involved in the development of the schedule. Despite the leave schedule, the designation notice indicated that the leave would be unscheduled.
Beth strongly objected to the schedule; she wanted to be able to work when she was medically able; she needed intermittent leave only for appointments and flare-ups. The employer, however, indicated that Beth would need a new certification if she wanted to work Tuesdays or Thursdays.
After some discussion regarding the schedule, Beth told her boss that she planned on working the next Tuesday, despite not having a new certification. Beth said that the certification did not contain a rigid schedule, she was physically able to work that Tuesday, and she had duties to perform. The employer said that allowing Beth to work on a day the employer designated as FMLA leave would open the employer up to an interference claim.
Beth showed up on Tuesday and was summarily terminated. She sued.
In court, the employer argued that Beth was terminated because she refused to follow the work schedule that her supervisors developed, or what the employer referred to as "FMLA-related insubordination."
The court found that a reasonable jury could find that the employer unilaterally and unreasonably placed Beth on a schedule which would have required her to use more FMLA leave time than was medically necessary. A jury could also find that, when it fired her, the employer retaliated against her for objecting to its unilateral leave schedule.
Therefore, the FMLA interference and retaliation claims based on the termination were allowed to proceed to a jury.
Friends, if you have a confusing certification, continue working toward clarification. Don't interpret it in a way that results in forcing an employee to take more leave than is medically required.
Johnson v. Norton County Hospital, District Court of Kansas, No. 20-cv-2082, July 23, 2021.
This article was written by Darlene Clabault of J. J. Keller & Associates, Inc.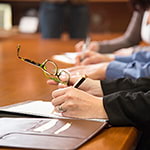 Looking for more on HR compliance?
Get the information and products you need to stay on top of industry changes and comply with regs.