Form I-9 flexibility extended
Posted September 1, 2021
Employers with employees working remotely because of COVID-19 will have flexibility in fulfilling Form I-9 requirements for remote workers through the end of the year.
On August 31, U.S. Immigration and Customs Enforcement (ICE) and the Department of Homeland Security (DHS) announced an extension of the flexibilities relating to the physical inspection of documents for the Form I-9, which verifies employment eligibility.
The flexible rules for remote workers were set to expire on August 31 but have been extended through December 31, 2021, due to continued precautions related to COVID-19.
How long does the exemption last?
To complete the Form I-9, an employer typically needs to physically inspect documents relating to an employee's identity and work authorization. Under the flexible policy, an employer can inspect the Section 2 document virtually for a remote worker.
The exemption from in-person document inspection lasts until the employee begins non-remote employment on a regular, consistent, or predictable basis, or until the flexibilities end, whichever comes first.
Initially in effect in 2020
Flexibilities in document inspection initially took effect on March 20, 2020, and applied to employees and workplaces operating remotely.
The requirements were modified to apply to remote workers even if a company has employees reporting to an office. They have been extended several times.
No exception for employees in the office
If employees are physically present at a work location, there is no exception to the in-person verification of identity and employment eligibility documentation for Form I-9.
Physical inspection needed eventually
When the flexibility period ends, employers (or their designated representatives) will need to physically inspect the required documents.
Standard procedures also acceptable
Employers with remote workers are not required to take advantage of the flexibility option from the DHS.
They can still choose to follow standard procedures for the Form I-9 for remote workers, which involve having the documents verified in-person by the employer or the employer's authorized representative.
This article was written by Terri Dougherty of J. J. Keller & Associates, Inc.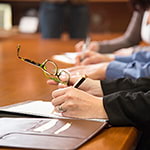 Looking for more on HR compliance?
Get the information and products you need to stay on top of industry changes and comply with regs.