OSHA's 2019 Top 10 violations: "The answers are out there"
Posted September 11, 2019
Patrick Kapust, Deputy Director of the Directorate of Enforcement for OSHA, announced the preliminary "top ten" most cited safety violations for 2019. In remarks given at the National Safety Council Congress and Expo in San Diego, California, on September 10th, he emphasized the preliminary nature of the announcement. The preliminary list is based on data from October 1, 2018, to August 15, 2019, and is still subject to changes. OSHA will reveal the final top ten most cited violations in November.
Kapust said that the list rarely changes from year to year. In fact, the 2019 most cited violation, for fall protection in construction, has been number one on the list since 2011. Many employers use the top 10 list each year to gauge the effectiveness of their safety programs. In referring to the list, Kapust emphasized that "The answers are out there. Employers should not feel that these are complex issues."
OSHA's Top Ten most frequently cited violations for 2019 (preliminary)
Regulation
Number of citations
1.
Fall Protection – General Requirements (1926.501)
6,010
2.
Hazard Communication (1910.1200)
3,671
3.
Scaffolding (1926.451)
2,813
4.
Lockout/Tagout (1910.147)
2,606
5.
Respiratory Protection (1910.134)
2,450
6.
Ladders (1926.1053)
2,345
7.
Powered Industrial Trucks (1910.178)
2,093
8.
Fall Protection – Training Requirements (1926.503)
1,773
9.
Machine Guarding (1910.212)
1,743
10.
Eye and Face Protection (1926.102)
1,411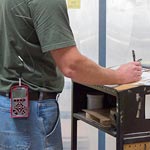 Looking for more on workplace safety?
Get the information and products you need to stay on top of industry changes and comply with regs.