New FCRA model disclosure notices
Posted September 18, 2018
On September 12, the Bureau of Consumer Financial Protection (Bureau) issued an interim final rule updating two model disclosures to reflect changes made to the Fair Credit Reporting Act (FCRA) by recent legislation. The revised notices include the Summary of Consumer Right and the Summary of Consumer Identity Theft Rights. A new notice of rights must be included whenever a consumer is required to receive a summary of rights required by FCRA per the Economic Growth, Regulatory Relief, and Consumer Protection Act.
FCRA requires consumer reporting agencies providing information to adopt procedures that promote confidentiality, accuracy, relevancy, and proper use of that information. Employers requesting consumer reports, too, have responsibilities under the FCRA.
Employers may use consumer reports when they hire new employees and when they evaluate employees for promotion, reassignment, and retention — if they comply with the FCRA.
Employers often do background checks on applicants and get consumer reports during their employment. Some employers want only an applicant's or employee's credit payment records; others want driving records and criminal histories. For sensitive positions, employers might want to order investigative consumer reports—reports that include interviews with an applicant's or employee's friends, neighbors, and associates. All of these types of reports are consumer reports if they are obtained from a Consumer Reporting Agency (CRA).
Applicants are often asked to give references. Whether verifying such references is covered by the FCRA depends on who does the verification. A reference verified by the employer is not covered by FCRA; a reference verified by an employment or reference checking agency (or other CRA) is covered. In the definitions section of FCRA, the term Excluded Communications provides special procedures for reference checking; otherwise, checking references may constitute an investigative consumer report subject to additional FCRA requirements.
The Economic Growth, Regulatory Relief, and Consumer Protection Act, enacted in May, requires nationwide consumer reporting agencies to provide "national security freezes" free of charge to consumers. The "national security freeze" restricts prospective lenders from obtaining access to a consumer's credit report, which makes it harder for identity thieves to open accounts in the consumer's name.
The law also mandates that whenever the FCRA requires a consumer to receive either notice, a notice regarding the new security freeze right also must be included. Consumer reporting agencies, including employers, may use the Bureau's model forms or their own substantially similar forms.
The May 2018 legislation also extends from 90 days to one year the minimum time that nationwide consumer reporting agencies must include an initial fraud alert in a consumer's file. A fraud alert informs a prospective lender that a consumer may have been a victim of identity theft and requires that the lender take steps to verify the identity of anyone seeking credit in the consumer's name.
The revised Summary of Consumer Rights and the revised Summary of Consumer Identity Theft Rights are available on the Bureau's website.
Spanish versions are also available.
This article was written by Darlene M. Clabault, SHRM-CP, PHR, CLMS, of J. J. Keller & Associates, Inc.
---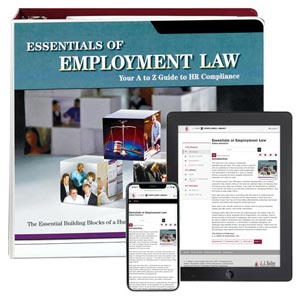 J. J. Keller's Essentials of Employment Law Manual covers more than 100 vital HR topics, including FMLA, ADA, HIPAA, FLSA, COBRA and more.
---
J. J. Keller's FREE HRClicks™ email newsletter brings quick-read human resources-related news right to your email inbox.