15-minute FMLA breaks not compensable
Posted September 6, 2018
Joe Employee has worked for your company for a number of years. He's always done a good job, but he has a condition that, according to his certification, requires him to take a 15-minute break each hour. Joe is not exempt, so he gets paid by the hour. Samantha, in the HR department, wonders if Joe needs to be paid for those 15-minute breaks.
No, says the U.S. Department of Labor's Wage and Hour Division (WHD), which enforces not only the Family and Medical Leave Act (FMLA), but also the Fair Labor Standards Act (FLSA).
If an employee is taking a 15-minute break every hour, in an 8-hour shift, the employee will perform only six hours of work. The FLSA generally requires employers to compensate employees for their work — work that benefits the employer. Short rest breaks up to 20 minutes in length primarily benefit the employer, because they give the company a reenergized employee. Therefore, rest breaks up to 20 minutes in length are ordinarily compensable.
The key here is "ordinarily."
In limited circumstances, short rest breaks primarily benefit the employee and therefore are not compensable. The FLSA does not, however, entitle an employee to take an unlimited number of personal rest breaks during the day and be compensated for all such breaks, even if they are shorter than 20 minutes.
Hourly 15-minute FMLA-protected breaks differ significantly from ordinary rest breaks commonly provided to employees. With Joe, the 15-minute breaks are required eight times per day and solely due to the needs of his serious health condition as required under the FMLA. Such FMLA-protected breaks are given to accommodate the employee's serious health condition; therefore, the breaks predominantly benefit the employee and are, therefore, noncompensable.
Employees who take FMLA-protected breaks must, however, receive as many compensable rest breaks as their coworkers receive. For example, if you generally allow all your employees to take two paid 15-minute rest breaks during an 8-hour shift, an employee needing 15-minute rest breaks every hour due to a serious health condition should likewise receive compensation for two 15-minute rest breaks during his or her 8-hour shift.
---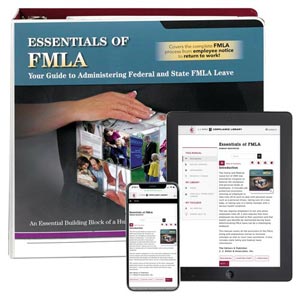 J. J. Keller's Essentials of FMLA manual helps HR pros understand and comply with the FMLA rules, control costs related to leave taken, and minimize the law's potential disruption to their organizations' operations.
---
J. J. Keller's FREE HRClicks™ email newsletter brings quick-read human resources-related news right to your email inbox.