OSHA cites commercial bakery for exposing workers to unsafe storage racks, amputation hazards
Posted September 11, 2017
OSHA recently assessed more than $129,000 in proposed penalties to a Florida commercial bakery for exposing workers to several workplace hazards, including amputation, fire, and noise hazards. The Agency inspected the bakery after receiving a complaint alleging machine guarding, forklift, and noise hazards.
Employer cited for unsafe storage racks
OSHA cited the employer for 16 serious and other-than-serious safety and health violations, including a serious violation under the General Duty Clause of the OSH Act (Section (5)(a)(1)), which requires employers to furnish a safe workplace free from "recognized hazards" that are likely to cause serious physical harm or death. The serious violation stems from the bakery's failure to properly assemble and maintain storage racks and pallet racks. The racks were loaded with various palletized bakery products, but inspectors found them to have structural defects that exposed employees to collapsing storage racks and falling palletized load hazards.
Other citations include machine guarding, lockout/tagout
Other serious citations OSHA issued include the company's failure to:
Ensure proper machine guarding on several pieces of equipment;
Develop and implement an emergency action plan;
Provide personal protective equipment such as thermal protection and safety glasses to each employee as required;
Develop and implement a hazardous energy control program (lockout/tagout) to prevent machines from starting up during maintenance and service;
Ensure all safety devices on the overs were inspected at least twice a month; and
Develop and implement a hearing conservation program for employees exposed to 85 decibels or more.
The bakery was also cited for not providing employees formal training on operating a powered industrial truck, failing to inspect powered industrial trucks for defects before putting them into service, and improper use of electrical cables.
The company has 15 business days from receipt of the citations and proposed penalties to contest the findings before the Occupational Safety and Health Review Commission.
---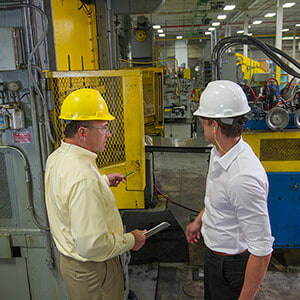 J. J. Keller® OSHA Compliance Assessment will provide you with a dedicated consultant to identify any areas of non-compliance and risk exposure.
---
J. J. Keller's FREE Workplace SafetyClicks™ email newsletter brings quick-read workplace safety and compliance news right to your email box.