Employers expected to add more voluntary benefits during open enrollment, experts say
Posted September 29, 2017
Open enrollment is not just about health insurance and retirement savings benefits.
According to a Society for Human Resource Management (SHRM) press release, many employers are expected to offer a variety of new voluntary benefit options along with making changes to long-standing benefits during this year's open enrollment period.
Trends to watch for include:
Expanded wellness programs (health and financial)
Increased opportunities for workflex
Voluntary benefit offerings that allow employees to customize their benefits to their needs and interests
Changes designed to control the increasing costs of prescription drugs
Bettina Deynes, vice president of human resources and diversity at SHRM, reminds employees to work closely with their human resources representatives to make sure that they understand the benefits being offered.
HR departments will be working to clearly communicate the value of their organization's benefits package using a variety of formats, Deynes said.
"HR professionals should consider using an employer benefit communication portal, short educational videos, webinars on specific benefit topics and in-person consultation," she said. "The more on-demand and interactive, the better."
Health, wellness, and workflex
Of course, the granddaddy of benefits is health insurance. The majority of organizations that participated in the SHRM's 2017 Employee Benefits survey indicated that they offer health care benefits to their full-time employees (99 percent). Thirty-four percent of organizations also offer health care to part-time employees. While health care reform has been in the news from the nation's capital, experts at SHRM do not believe that talk of repeal and replace of the Affordable Care Act (ACA) will have a large impact on this year's open enrollment.
SHRM's benefits survey results also indicated that 24 percent of organizations increased their wellness benefits in the 12 months before the survey was taken. Anticipate other benefits to increase as well.
"More opportunities for flexible work schedules and remote work may also be on the table this enrollment period as employee demand for flexibility increases," said Sylvia Francis, total rewards manager, Regional Transportation District and a SHRM Special Expertise Panel member.
Voluntary benefits
Additional voluntary benefit offerings could include supplemental life insurance, supplemental health plans (especially as high-deductible health plans become more prevalent), identity theft protection, legal plans, and pet insurance.
"The usual supplemental plans such as pet insurance and EAPs [employee assistance programs] — which include counseling and legal advice — still are in place," said Rodney Alvarez, vice president of talent management at Celtra Inc. and a SHRM Special Expertise Panel member. "The new things that I'm seeing are a trend toward offering supplemental maternity benefits and student loan repayment assistance. Also, I have seen a lot of companies offering summer Fridays off — or half off — as an extra perk."
Prescription drug cost controls
Deynes says that as organizations look for ways to control the cost of benefits, some may incorporate prescription drug cost controls. These controls may include step-therapy, prior authorization requirements and additional co-pay or co-insurance tiers.
---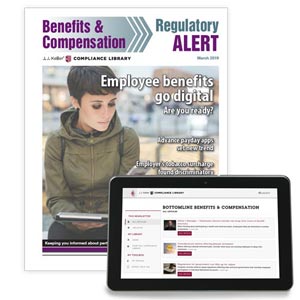 J. J. Keller's BottomLine Benefits & Compensation is an 8-page, monthly newsletter that addresses key issues relating to benefits and compensation programs.
---
J. J. Keller's FREE HRClicks™ email newsletter brings quick-read human resources-related news right to your email inbox.