CARB study finds mode of transportation greatly affects exposure to air pollution
Posted September 12, 2017
A new study conducted by the California Air Resources Board (CARB) found that a commuter's mode of travel greatly affects his or her exposure to air pollution.
The study, "Commuter exposure to PM2.5, BC, and UFP, and in six common transport microenvironments in Sacramento, California," concluded that electricity-powered light rail trains provide the least polluted travel option, while commutes using older diesel-powered trains exposed commuters to the highest average air pollution levels. Exposures to particulate matter (PM2) and black carbon (BC) were similar for cars, buses, and bicycle trips. Since the average car and public transportation trips are usually faster than bicycle trips, they may provide less exposure to commuters; however, CARB says cycling has significant health benefits.
The study, recently published in the scientific journal Atmospheric Environment, measured air pollution exposures to traffic-related air pollutants during a variety of travel modes to and from CARB headquarters in Sacramento. Researchers recruited volunteers to collect data during their daily commutes using backpack sensors that measured personal exposure to air pollution such as PM2.5, which can be inhaled deep into the lungs, and ultrafine particles (UFPs). The backpacks also measured soot from diesel engines and other combustion sources, known as BC. Modes of commuting included car, bus, light rail, train, and bicycle.
CARB believes the study may be useful for commuters when selecting a travel mode that offers the lowest air pollution exposure per mile for their individual trips.
Researchers also offered advice for commuters on ways to reduce their exposures to air pollution:
Car travelers can reduce their exposure to PM2.5, UFP, and BC by up to 75 percent by operating the air conditioner on recirculate mode.
Bicycle commuters can reduce exposures by 15 to 75 percent by choosing dedicated bicycle pathways away from traffic sources.
Commuters using older technology diesel-powered trains can reduce their exposures to UFPs by up to 90 percent by using trains where the locomotive pushes the rail cars rather than pulls them.
Read the study on the ScienceDirect website.
---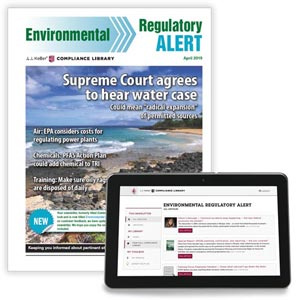 J. J. Keller's Environmental Alert: The Compliance Guide for Safety Professionals helps you stay on top of the latest environmental enforcement issues.
---
J. J. Keller's FREE Workplace SafetyClicks™ email newsletter brings quick-read workplace safety and compliance news right to your email box.