Orthopedics center to pay $165K to settle associational disability bias charge
Posted September 8, 2016
An Albuquerque, New Mexico, orthopedics medical facility will pay $165,000 to settle a lawsuit for associational disability discrimination filed by the U.S. Equal Employment Opportunity Commission (EEOC), the agency announced on September 1, 2016.
According to EEOC's suit, the company violated the Americans with Disabilities Act (ADA) by firing a temporary staffing agency employee, and failing to hire her for a full-time position because of her relationship with her then three-year old daughter, who had disabilities or was regarded as disabled.
In addition to requiring the company to pay monetary damages to the employee and provide her a letter of reference, the consent decree settling the suit requires the company to conduct annual anti-discrimination training for its employees, managers, supervisors, and human resources employees.
The company will also develop and implement a management evaluation and compensation system which takes into account compliance with equal employment opportunity laws, policies and laws prohibiting retaliation, and the decree. The company will also adopt and distribute its anti-discrimination policies and report to EEOC if there are any complaints of disability discrimination. The court approved the settlement and will retain jurisdiction for purposes of compliance for two years.
---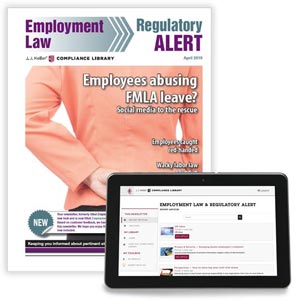 J. J. Keller's Employment Law Today newsletter explains why you need to care, what you need to do and how your business could be affected by HR industry news.
---
J. J. Keller's FREE HRClicks™ email newsletter brings quick-read human resources-related news right to your email inbox.