Legal challenge over electronic logs rests with judges
Posted September 13, 2016
The fate of the electronic logging device (ELD) mandate now rests in the hands of a federal appeals court in Chicago.
On Tuesday, September 13, a three-judge panel of the U.S. Court of Appeals for the Seventh Circuit heard oral arguments from both sides in the case of the Owner-Operator Independent Drivers Association (OOIDA) vs. the U.S. Department of Transportation (DOT).
Now it's up to the court to decide if the ELD mandate can stand or will need to be taken back to the drawing board.
At Tuesday's hour-long court session, appellate judges David Hamilton, Michael Kanne, and William Bauer had the opportunity to question attorneys Paul Cullen Sr., representing OOIDA, and Joshua Waldman, an attorney for the U.S. Department of Justice representing the DOT.
OOIDA filed its legal challenge almost as soon as the ELD rule was officially published in December 2015. Unless that challenge is successful, the rule will require most interstate commercial motor vehicle drivers to use electronic logs in place of paper logs starting in December 2017.
OOIDA brought five issues before the court, arguing that the rule:
Fails to satisfy a congressional requirement that ELDs "automatically" record all changes in duty status;
Fails to ensure that ELDs are not used to harass drivers (an argument that resulted in the DOT giving up its first attempt to mandate electronic logs);
Does not provide enough benefits to offset the costs;
Violates drivers' Fourth Amendment rights against unreasonable search and seizure; and
Does not satisfy a legal requirement to preserve confidentiality and limit the use of ELD data by enforcement personnel.
Automated recording
The first question from the bench concerned OOIDA's argument that ELDs have to record everything drivers do, with Judge Hamilton saying such a device "would have to be unbelievably intrusive," going so far as to "detect whether the driver was asleep or not ... without harassment and without intruding unduly on his privacy."
"Your theory seems to be that Congress ordered the [Federal Motor Carrier Safety Administration] to invent a square circle," Hamilton said.
DOJ attorney Waldman agreed, saying it would be a "highly intrusive sea change" that Congress did not intend, and is not even possible with today's technology.
"We don't read [the statute] that way," Cullen countered. "It is contingent upon automatic recording of changes in duty status and hours of service. Without that automatic [recording], there's not going to be any improvement [in compliance]."
Judge Hamilton also questioned both attorneys about whether ELD data could be used inappropriately to enforce other state or local rules besides hours of service, and whether ELDs are more intrusive than paper logs.
Waldman said the DOT has taken "appropriate measures" to prevent unintended use of ELD data, citing a DOT enforcement policy saying that ELDs should only be used to enforce hours-of-service rules.
A final decision in the case is expected by early 2017.
This article was written by Daren Hansen of J. J. Keller & Associates, Inc.
---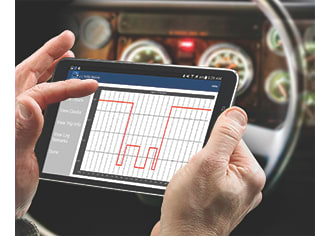 Join other proactive fleets who are starting their transition now by taking advantage of our ELD test drive! Request a call from one of our ELD Solution Specialists today.
---
J. J. Keller's FREE Transportation SafetyClicks™ email newsletter brings quick-read safety and compliance news right to your email box.