SHRM submits comments to DOL about proposed changes to overtime regulations
Posted September 10, 2015
Far more employees are likely to experience negative consequences as a result of proposed changes to the Fair Labor Standards Act (FLSA) overtime regulations than benefit from them, the Society for Human Resource Management (SHRM) said in comments submitted to the Department of Labor (DOL).
The proposed regulations would raise the salary threshold at which an employee is eligible to be classified as exempt from $23,660 to $50,440.
According to the DOL, more than 3.5 million workers who earn less than the proposed salary threshold do not regularly work overtime — or more than 40 hours in a week. Although they are the employees most likely to be reclassified as nonexempt under the proposed regulation, they won't benefit from the change. Instead, they are likely to experience negative consequences of reclassification — limited or no access to overtime, reduced workplace flexibility and access to opportunities to gain experience, and a loss of professional status.
In a new survey conducted by SHRM, 70 percent of respondents said it was likely that their employees who are reclassified under the new regulation would have fewer opportunities to work overtime.
According to the SHRM survey of human resources professionals, 67 percent said that if the proposed regulation leads to an increase in eligibility for overtime pay, it is likely that employees would have decreased flexibility and autonomy. A limit on workplace flexibility is a reason why many employees view reclassification as demotion.
SHRM agrees that it is time to update the salary threshold, but believes the proposed increase is too large. More than doubling the salary threshold would significantly impact employers and employees and would disproportionately affect non-profits, as well as employers and workers in geographic areas with lower costs of living and income.
"While DOL's proposal acknowledges that the proposed rule may have some adverse effect on employees, the consequences of reclassification are not considered in any depth," Mike Aitken, SHRM's vice president of government affairs, wrote in the comments. "Of course, the department could mitigate the impact of these negative consequences by more appropriately setting the salary threshold so that it serves as a reasonable proxy for those employees unlikely to pass the duties test."
SHRM's 50 state councils and 300 local SHRM chapters have signed the comments SHRM submitted to DOL. In addition, more than 2,000 individual SHRM members have shared their comments with the department.
To read the full comments, click here
---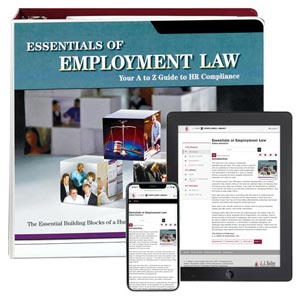 J. J. Keller's Employment Law Essentials Manual covers more than 100 vital HR topics, including FMLA, ADA, HIPAA, FLSA, COBRA and more.
---
J. J. Keller's FREE HRClicks™ email newsletter brings quick-read human resources-related news right to your email inbox.