FMCSA to consider enforcement of CA and WA rest-break laws
Posted August 18, 2023
Motor carriers operating in California and Washington who have been exempt from following state meal- and rest-break laws could end up having to comply after all.
The Federal Motor Carrier Safety Administration (FMCSA), which previously ruled that the states' break laws cannot be enforced on drivers who follow federal hours-of-service rules, now says it will consider requests to allow the state laws to be enforced.
Such requests could come from the states themselves, labor organizations, or others in favor of requiring truck and bus drivers to follow the states' more stringent rest-break laws.
Under the states' break and rest laws, most workers must get a 30-minute meal break for every 5 hours of work, plus a 10-minute rest break for every 4 hours worked.
In three separate rulings in 2018 and 2020, the FMCSA concluded that the states' break laws conflict with its hours-of-service rules and create an undue burden on interstate commerce, so they cannot be enforced on drivers following federal hours-of-service rules. Courts have largely upheld that decision.
In its recent announcement, the FMCSA provided no rationale for revisiting its position, but the move is widely seen as furthering the Biden Administration's pro-labor stance.
Swift reaction
There was swift reaction to the FMCSA's announcement. The American Trucking Associations (ATA) panned the move, with ATA president Chris Spear saying the organization is "fully prepared to oppose this effort that would result in a confusing patchwork of regulations," vowing to "stop this in its tracks."
Conversely, the Teamsters are applauding the agency's effort, with Teamsters head Sean O'Brien saying "states should have the freedom to protect motorists and workers by implementing stronger meal and rest break requirements for professional drivers."
Those seeking a waiver from the FMCSA's earlier decision to "preempt" California and Washington laws will need to show that a waiver "is in the public interest and is consistent with the safe operation of [commercial motor vehicles]."
The FMCSA set November 13, 2023, as the deadline for receiving waiver petitions. All such petitions will be published and the public will be given an opportunity to weigh in, the FMCSA says.
This article was written by Daren Hansen of J. J. Keller & Associates, Inc.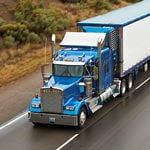 Looking for more on transportation safety?
Get the information and products you need to stay on top of industry changes and comply with regs.