5 Driver Appreciation Week ideas to show drivers how much you care!
Posted August 11, 2023
During Driver Appreciation Week 2023, September 10-16, it's important to show your drivers you appreciate them. However, many successful carriers have realized that "appreciating" drivers once a year is not enough.
These carriers realize that their drivers are their most valuable assets and have very difficult jobs, so they want to recognize their drivers' efforts at every opportunity. Here are some examples of year-round appreciation and recognition programs used by some of the best carriers.
Company anniversary date
Some carriers give their drivers a thank you card or certificate, take the driver to lunch or dinner, or give them a gift (hat, jacket, etc.) every year on their anniversary with the company. A variation of this is giving larger gifts at a ceremony on "benchmark" anniversaries (1 year, 5 years, 10 years, etc.).
Safe driver awards
Rather than just giving drivers cash as a safety bonus, some carriers give their drivers more permanent proof of their appreciation for safe driving, as well. Hats, jackets, gifts certificates, belt buckles, "choice of anything in the company catalog," or a decal for the driver's truck signifying the years of safe driving are all ways to show appreciation for safe driving.
Cookout, holiday party, golf outing, etc.
In an effort to get all employees more involved in the company and to show appreciation for drivers, many carriers organize social events. These gatherings can be anything from formal events (holiday party, golf outing) to occasional "whoever is at the terminal on Saturday" events.
Birthdays and wedding anniversaries
Sending drivers birthday cards and/or presents can show them that you appreciate them and that you care. Sending an anniversary card and/or gift (if the driver willingly tells you their anniversary date) can show that you not only appreciate the drivers, but also their families.
Your attention and thanks
Activities such as casually visiting with the drivers, paying attention to their problems and concerns, dealing with (or helping with) their problems when they occur, and simply saying "thank you" when a driver does a good job are all examples of great "driver appreciation programs."
This article was written by Lucero Truszkowski of J. J. Keller & Associates, Inc.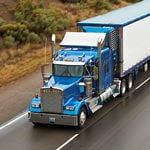 Looking for more on transportation safety?
Get the information and products you need to stay on top of industry changes and comply with regs.