Recognize Safe + Sound Week 2022: August 15-21
Posted August 5, 2022
OSHA encourages organizations of any size to participate in Safe + Sound Week August 15-21. This nationwide event recognizes the successes of workplace health and safety programs and offers information and ideas on how to keep workers safe.
Participating in Safe + Sound Week can help get your health and safety program started, energize an existing one, or provide a chance to recognize your safety successes. OSHA says all organizations looking for an opportunity to recognize their commitment to safety are welcome to participate. In 2021, more than 5,300 businesses participated.
Registration information and program ideas can be found on OSHA's website.
This article was written by Rachel Krubsack of J. J. Keller & Associates, Inc.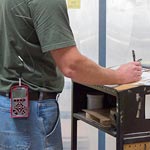 Looking for more on workplace safety?
Get the information and products you need to stay on top of industry changes and comply with regs.