Form I-9: Virtual document review closer to being a permanent option
Posted August 25, 2022
Remote review of Form I-9 documents moved a step closer to becoming a permanent option with the release of a proposed rule from U.S. Immigration and Customs (ICE) and the Department of Homeland Security (DHS).
The proposed rule, published in the Federal Register on August 18, would create a framework to allow the Secretary of Homeland Security to authorize document examination alternatives.
Document inspection options
As part of the Form I-9 process, all new hires must present documents confirming identity and proof of eligibility to work in the United States. Since March 20, 2020, employers have had an option to review these Form I-9 documents via video, fax, or email for employees working remotely. That option expires on October 31, 2022.
In recognition of advances in technology and an increase in remote work, the agencies are looking at ways to make remote document review permanent.
The proposed rule would allow the DHS to set parameters for alternatives to the physical presentation or inspection of documents. This might be:
Part of a pilot program
When the secretary determines such procedures offer an equivalent level of security
As a temporary measure to address a public health emergency
A national emergency
Reducing risks
To reduce the risk for fraud, discrimination, and invasion of privacy with remote document review, the DHS is considering several ideas:
Required training. Employers or authorized representatives using the alternative procedure would be required to take a 30- to 60-minute online training course on detecting fraudulent documents remotely and avoiding discrimination in the process.
Document retention. Employers would be required to retain copies of any documents presented remotely via video, fax, or email. Limiting participation to E-Verify employers. Only employers enrolled in E-Verify, and in good standing, would be allowed to use remote document inspection.
Limits on those who have been fined. Employers who have been the subject of a fine, settlement, or conviction relating to employment verification practices would have limits placed on remote document inspection.
Form I-9 change
Employers who elect to use remote document review would indicate this on the Form I-9. The agency proposes adding a box employers would check to indicate which alternative procedures were used.
In the event of an audit, this information would let ICE know that the employer used remote document review.
Comments welcome
Comments on the proposed rule and options for reducing risks associated with virtual document review are being accepted through October 17 at the Federal eRulemaking Portal: https://www.regulations.gov.
More to come
This proposed rule does not create an immediate option for remote review of documents, but lays the groundwork for this flexibility to be authorized in the future. Any alternative procedures for document review would need to be introduced in a future Federal Register notice.
That notice would set parameters for the alternative procedures, outline conditions for participation, and establish a timeline for how long the alternative procedures would be in effect.
This article was written by Terri Dougherty of J. J. Keller & Associates, Inc.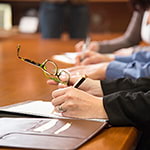 Looking for more on HR compliance?
Get the information and products you need to stay on top of industry changes and comply with regs.