Oregon OSHA adopts emergency rules for wildfire smoke, employer-provided housing
Posted August 13, 2021
Effective August 9, Oregon OSHA has adopted two new emergency rules. One puts protections in place against the hazards of wildfire smoke; the other establishes safeguards against high heat in employer-provided housing.
The wildfire smoke rule applies to employers whose employees are – or will be – exposed to wildfire smoke where the ambient air concentration for fine particulate matter (also known as PM2.5) is at or above an Air Quality Index (AQI) 101. The rule encompasses a variety of exposure controls, training and information, and other measures.
The heat rule applies to occupants of housing provided by employers. It requires access to cooling areas and other steps to minimize dangerous heat in housing units.
Both rules remain in effect for 180 days.
This article was written by Rachel Krubsack of J. J. Keller & Associates, Inc.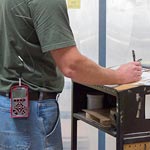 Looking for more on workplace safety?
Get the information and products you need to stay on top of industry changes and comply with regs.