Study finds service industry workers have elevated risk of hearing loss
Posted August 7, 2020
New research from the National Institute for Occupational Safety and Health (NIOSH) estimates that a large number of noise-exposed workers within the service industry have an elevated risk of hearing loss, including some in professions traditionally viewed as low risk. Data show that overall, 16% of workers across all industries experienced occupational-related hearing loss, compared with 17% in the service sector. Audiograms for 1.9 million noise-exposed workers from 2006 to 2015 were studied, including audiograms for nearly 160,000 service industry workers.
The study found several sub-sectors of the service industry exceeded the overall occurrence of hearing loss by large percentages, and many had high risks for hearing loss. For example, workers in Administration of Urban Planning and Community and Rural Development had the highest occurrences of hearing loss at 50%, and workers in Solid Waste Combustors and Incinerators had more than double the risk, the highest of any sub-sector.
The study also showed that some sub-sectors traditionally viewed as low risk, such as professional and technical services and schools, had higher than expected occurrences of hearing loss. For example, Custom Computer Programming Services had occurrences of 35%, and Elementary and Secondary Schools, 26%.
Employers in the service industry may consider monitoring noise levels in the workplace to ensure their employees are not exposed to 85 decibels or more over an 8-hour period. For general occupational hearing loss prevention, NIOSH recommends employers remove noise at its source or reduce it to a safe level. When noise cannot be reduced to safe levels, employers should implement a hearing conservation program.
This article was written by Rachel Krubsack of J. J. Keller & Associates, Inc.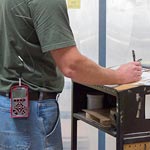 Looking for more on workplace safety?
Get the information and products you need to stay on top of industry changes and comply with regs.