OSHA seeks information on Table 1 of silica standard for construction
Posted August 19, 2019
OSHA is requesting information on the effectiveness of engineering and work practice control methods not currently included for the tasks and equipment listed on Table 1 of the Respirable Crystalline Silica standard for construction, at 1926.1153.
In addition, OSHA seeks comments about whether to revise 1910.1053(a)(3) of the Respirable Crystalline Silica Standard for General Industry to broaden the circumstances under which general industry and maritime employers would be permitted to comply with Table 1 of the silica standard for construction.
OSHA says that information submitted will allow it to consider new developments and enhanced control methods for equipment that generates exposures to silica and provide additional data on exposures to silica from equipment and tasks using a variety of control methods under different workplace conditions.
Comments must be submitted by October 14, 2019, via the Federal eRulemaking Portal using Docket No. OSHA-2010-0034, or by fax or mail.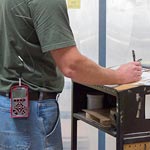 Looking for more on workplace safety?
Get the information and products you need to stay on top of industry changes and comply with regs.