Not all social media posts make a hostile work environment
Posted August 12, 2019
An employee represented by a union disagreed with the latest collective bargaining agreement and, therefore, ran for union president. She lost the election to the incumbent, who supported the agreement. Subsequently, some of her coworkers began making negative posts about the employee on a social media group. The group was used to communicate about work-related issues. It was not created by the employer, nor did the employer monitor it. It was a public social media site. The employer did, however, have a social media policy.
In response to the offensive postings, the employee in question complained to the company's HR department, arguing that the comments created a hostile work environment. While there was an investigation, it was closed after the investigator determined that the employee's claims were meritless. This did not sit well with the employee, who claimed that the investigation failed to adequately address her concerns. She took her issues to the court, claiming a hostile work environment under Title VII of the Civil Rights Act. To meet this standard, the discriminatory conduct must be extreme enough to amount to a change in the terms and conditions of employment. Unless extremely serious, offhand comments and isolated incidents are insufficient to sustain a hostile work environment claim.
The employee argued that the social media comments were inherently pervasive because they are public and endure; that they constituted severe harassment because they were threatening, in appropriate, and/or derogatory; and that the company did not enforce its social media policy, making the conduct severe.
The court disagreed with the employee's arguments. Permanence alone is not enough to make the posts so extreme that they amount to a change in the terms and conditions of employment; the conduct constituted only offhand comments and isolated incidents; and the employer's handling of the investigation did not cause a material change in her employment.
Of note in this case, however, is that, while the court dismissed the argument that the employer did not investigate the issue appropriately, it acknowledged that such failures could result in a material change in the terms and conditions of employment, but the employee did not pursue this. Had she done so, the outcome could have been different.
In light of this, employers can help avoid potential issues if they fully investigate such claims. Doing so can at least stop a court from deciding that the investigation was incomplete, and it could also dissuade an employee from filing a claim. The laws regarding social media posts are somewhat vague, and cases like this one help define the line between what constitutes harassment and what does not. Chinery v. American Airlines, Third Circuit Court of Appeals, No. 18-3118, July 25, 2019
This article was written by Darlene M. Clabault, SHRM-CP, PHR, CLMS, of J. J. Keller & Associates, Inc.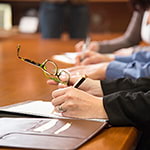 Looking for more on HR compliance?
Get the information and products you need to stay on top of industry changes and comply with regs.