New study details hearing loss in mining, oil and gas extraction workers
Posted August 30, 2019
According to a recently published study, researchers at the National Institute for Occupational Safety and Health (NIOSH) found that in many industries within the mining and oil and gas extraction sectors, at least 25% of the workers had hearing loss. In some industries, more than 30% had hearing loss.
Researchers examined audiograms for 1.9 million noise-exposed workers across all industries, including 9,389 in mining and 1,076 in oil and gas extraction. Overall, 16% of workers across all industries had hearing loss, compared with 24% in mining and 14% in oil and gas extraction.
Many industries within mining and oil and gas extraction sectors, however, exceeded their overall numbers. Noise-exposed workers with the highest prevalence of hearing loss were workers in the construction sand and gravel mining industry at 36% and those within the natural gas liquid extraction sector at 28%.
The study was published in the American Journal of Industrial Medicine and is the first to examine hearing loss prevalence and risk by industry within the oil and gas extraction sector, and within most mining sector industries.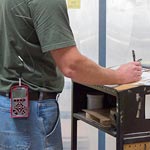 Looking for more on workplace safety?
Get the information and products you need to stay on top of industry changes and comply with regs.