Federal judge orders company, owner to pay $1M to terminated employees
Posted August 30, 2019
A federal judge in the U.S. District Court for the Eastern District of Pennsylvania has awarded $1,047,399 in lost wages and punitive damages to two former employees of a Pennsylvania manufacturer after a jury found the company and its owner fired them in retaliation for their participation in a federal safety investigation.
On April 2, 2019, a jury determined that the company and its owner illegally fired the employees because they participated in a 2014 OSHA inspection. The inspection followed an incident in which one of the employees' coworkers suffered the amputation of three fingers.
The company fired one of the employees after OSHA began an onsite investigation, and fired the second employee shortly after OSHA issued citations and assessed the company with penalties. The acts of retaliation violated Section 11(c) of the Occupational Safety and Health Act (OSH Act). The court's award of $500,000 in punitive damages is the largest punitive award ever under Section 11(c) of the OSH Act. The court justified the award in light of the defendants' "deliberative flouting of the act."
In addition to damages, the judge awarded the former employees $547,399 in front and back pay, prejudgment interest, and additional amounts to compensate for the adverse tax consequences of their receiving a large, one-time payment. The judge also ordered that the company and its owner immediately post an anti-retaliation notice at the plant, and never again violate Section 11(c) of the OSH Act.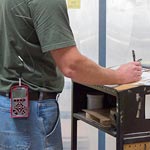 Looking for more on workplace safety?
Get the information and products you need to stay on top of industry changes and comply with regs.