Developing law: Medical marijuana use doesn't require drug test waiver
Posted August 24, 2018
Joe Employee suffered an occupational injury and was subsequently asked to take a drug test as a condition of continued employment. In response, Joe indicated that he would not pass the test because he was taking medical marijuana (among other legal drugs) for an old back injury (which the company knew about). The company stuck to their guns, however, and would not allow Joe to return to work unless he tested negative for marijuana.
Joe was put on suspension until he passed the test, but he filed a discrimination claim instead. He argued that, due to his disability, he sought a reasonable accommodation of having the drug test waived.
The court indicated that Joe didn't argue that he was discriminated against because of his disability, but rather that he was discriminated against because the employer did not accommodate his medical marijuana use by waiving a drug test. While related, these are two separate considerations.
For example, an employer's disapproval that an employee uses a wheelchair can be discrimination against the disability itself. Joe's case, however, is different. He performed his job fine for years and was not discriminated against until he was asked to take a drug test. The employer did not take issue with his disability, only with a consequence of his treatment.
The employer had no problem with Joe's other legal drugs, even though they were opiates, as they are not illegal under federal law. Joe countered that he provided a doctor's note indicating that he could perform the job safely while taking all the drugs, including marijuana. The company stood its ground.
The court turned to the fact that marijuana remains illegal under federal law, despite states reaching a different conclusion. It indicated that such state laws decriminalizing marijuana do not require an employer to accommodate its use, and that most courts have concluded that the decriminalization of medical marijuana does not shield employees from adverse employment actions. Simply, refusing to take a drug test is not a protected activity. Such state laws provide a potential defense to criminal prosecution or other adverse action by the state.
For this employer, it did not need to waive its drug testing requirement as a reasonable accommodation for medical marijuana (and other federally-prohibited drug) users.
Cotto v. Ardagh Glass Packing, Inc., et al., N.J. District Court, No. 18-1037, August 10, 2018
This article was written by Darlene M. Clabault, SHRM-CP, PHR, CLMS, of J. J. Keller & Associates, Inc.
---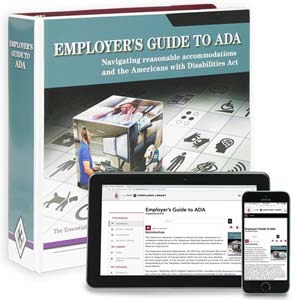 J. J. Keller's Employers Guide to ADA Manual helps you navigate the often-murky waters of the Americans with Disabilities Act (ADA).
---
J. J. Keller's FREE HRClicks™ email newsletter brings quick-read human resources-related news right to your email inbox.