CSB releases factual update on refinery explosion and fire
Posted August 7, 2018
The U.S. Chemical Safety Board (CSB) released a factual investigative update into its ongoing investigation of an April 26, 2018, explosion and subsequent fires at a refinery in northern Wisconsin. The initial explosion occurred in the refinery's Fluid Catalytic Cracking Unit (FCCU) while the refinery was shutting down the FCCU for periodic maintenance and inspection.
CSB's report notes the following:
The explosion took place during a planned maintenance shutdown of the refinery FCCU.
The incident occurred during a scheduled break time and many workers previously in the unit before the explosion had moved either into blast resistant buildings or away from the process unit.
One piece of debris from the explosion flew about 200 feet, and struck a large, nearby, aboveground storage tank containing about 50,000 barrels of asphalt. The side of the tank was punctured, resulting in the release of over 15,000 barrels of hot asphalt into the refinery.
Approximately two hours after the release, the asphalt ignited, resulting in a large fire.
As a result of the explosion, 36 people sought medical attention, including 11 refinery and contract workers who sustained OSHA recordable injuries. In addition, a large portion of the nearby town was evacuated.
In addition to the factual report, the CSB also released an animation of the events leading up to the explosion of the FCCU.
---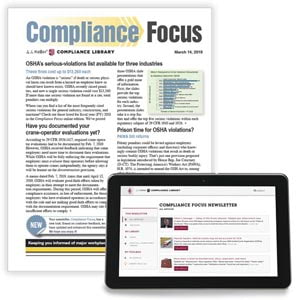 J. J. Keller's Compliance Focus helps you stay on top of critical regulatory developments from: DOT, OSHA, EPA, DOL, MSHA, EEOC, DHS and other agencies.
---
J. J. Keller's FREE Workplace SafetyClicks™ email newsletter brings quick-read workplace safety and compliance news right to your email box.