States have option of facilitating CDL and CLP process for non-residents
Posted August 4, 2017
State Driver Licensing Agencies (SDLAs), in specific circumstances, have been given the option of facilitating the commercial driver's license (CDL) and commercial learner's permit (CLP) process for out-of-state drivers, according to recent Federal Motor Carrier Safety Administration (FMCSA) regulatory guidance.
The guidance states SDLAs may agree to assist individuals, who are not domiciled in the state, with the CLP application process and to administer the CDL general knowledge test, providing that:
The SDLA administering the general knowledge test transmits the test results directly, securely, and electronically to the applicant's state of domicile; and
The State of domicile agrees to accept the test results and issue the CLP.
FMCSA's regulatory guidance is consistent with the Agency's October 13, 2016, final rule which amended the CDL regulations to ease the transition of military personnel into civilian careers driving commercial motor vehicles (CMVs).
The regulatory guidance is applicable August 3, 2017, and expires August 3, 2022. The Agency will then consider whether the guidance should be withdrawn, reissued for another period of up to five years, or incorporated into the safety regulations at that time.
The regulatory guidance reads:
Regulatory Guidance to 49 CFR Part 383—Commercial Driver's License Standards Section 383.73 State Procedures
Question: May States accept applications for a CLP from individuals who are not domiciled in the State but who receive CDL training within the State, and administer the knowledge test to these individuals?
Guidance: Yes. Section 383.73 does not prohibit States from accepting and processing CLP applications from out-of-State applicants (e.g., individuals who are not domiciled in the State but who receive training there) and administering the knowledge test to such applicants, provided there is agreement between the testing State and the applicant's State of domicile. In particular: (1) The testing State must administer the general knowledge test in accordance with 49 CFR part 383, subparts F, G, and H;(2) transmission of general knowledge test results and any other supporting documentation shall occur by a direct, secure, electronic means to the State of domicile; and (3) in accordance with Sec. 383.73(h), only the State of domicile may create the CDLIS record and issue the physical CLP. Ultimately, the responsibility for compliance with all requirements of Sec. 383.71 and Sec. 383.73 remains with the State of domicile. Under 49 CFR 383.79, States of domicile are already required to accept skills test results from other States; this guidance clarifies that States of domicile may (but are not required to) accept knowledge test results from other States in the same manner. This guidance shall not be construed to allow a State to issue a CLP or CDL to an individual who is not domiciled in that State. Both the CLP and the CDL must be issued by the State of domicile, as required by 49 U.S.C. 31311(a)(12)(A).
---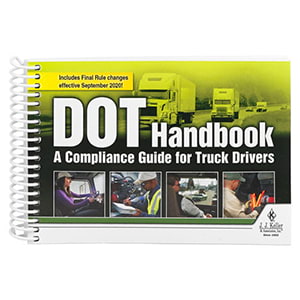 J. J. Keller's DOT Handbook: A Compliance Guide for Truck Drivers provides newly hired drivers with easy-to-understand, concise DOT compliance information.
---
J. J. Keller's FREE Transportation SafetyClicks™ email newsletter brings quick-read safety and compliance news right to your email box.