Leaders and employees rate email as top communication tool, survey shows
Posted August 7, 2017
While offices are steadily going paperless, inboxes will still be filling up in the next three years, according to respondents in two surveys recently conducted by Robert Half Technology.
Regardless of their relationship to the technology – either those leading the group who manages and implements communication platforms or the users who rely on effective communication tools to do their job each day – professionals believe email reigns supreme in the workplace.
Seventy-three percent of Chief Information Officers (CIOs) and 53 percent of office workers still think email will be the most common way to communicate internally through 2020. Quicker, less formal means of touching base may also be gaining favor, as those who believe email is on the way out cited instant messaging as the most likely replacement.
When asked which communication channel is most effective for planning, strategizing and follow-up, though, office workers from various industries and roles ranked in-person meetings first (37 percent), followed by email (27 percent), instant messaging (19 percent), and phone calls (9 percent). Perhaps unsurprisingly, busy CIOs favored email (41 percent), followed by in-person meetings (22 percent), instant messaging (13 percent), and phone calls (9 percent).
Digital communication: any time, any where
Although email is expected to remain the most popular form of workplace communication, 28 percent of professionals surveyed cited instant messaging as their primary channel for communicating with coworkers. One reason may be immediacy: 76 percent of workers surveyed said they feel more pressure to respond immediately to instant messaging versus email, and 90 percent expect an immediate response when they send an instant message.
Following are some additional findings on how workers view instant messaging:
Rules of Engagement. Fifty-four percent of professionals said their company has clear rules about how to use its internal messaging platform, like a requirement to update status as "Online," "Busy," or "Away" to keep colleagues informed.
Do Not Disturb. Sixty-five percent of respondents have received a message when their status is set to "do not disturb" or "busy," and 30 percent of those professionals said they were "annoyed" by the intrusion. Professionals thirty-five and older were more annoyed than their younger colleagues and more likely to refrain from sending a message when a coworker's status is "busy."
Open for Business. Most professionals said their primary motivation for staying "online" with their organization's messaging platform was to inform coworkers they are working and available (56 percent). Other respondents use it to quickly access their colleagues (22 percent) and talk to fellow employees in real-time (17 percent).
About the research
The surveys were developed by Robert Half Technology and conducted by independent research firms. They include responses from more than 2,500 CIOs in 25 metropolitan areas and more than 1,000 U.S. workers 18 years or older and employed in office environments.
---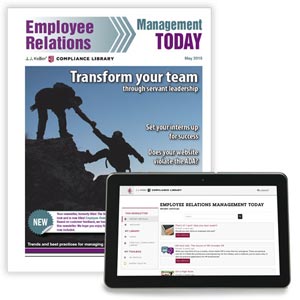 The SUPER adVISOR Newsletter provides HR pros with expert insight and advice to strengthen and reinforce supervisors' employee management skills.
---
J. J. Keller's FREE HRClicks™ email newsletter brings quick-read human resources-related news right to your email inbox.