What is personal conveyance?
Posted August 1, 2016
Personal use and personal conveyance of a commercial motor vehicle (CMV) is one of the "fuzziest" topics regarding hours of service (HOS). This is because there is no regulation, and only one interpretation, pertaining to it. What is allowed is often a matter of enforcement. Question 26 of the interpretations for 49 CFR Section 395.8 discusses its use:
Question: If a driver is permitted to use a CMV for personal reasons, how must the driving time be recorded?
Guidance: When a driver is relieved from work and all responsibility for performing work, time spent traveling from a driver's home to his/her terminal (normal work reporting location), or from a driver's terminal to his/her home, may be considered off-duty time. Similarly, time spent traveling short distances from a driver's en route lodgings (such as en route terminals or motels) to restaurants in the vicinity of such lodgings may be considered off-duty time. The type of conveyance used from the terminal to the driver's home, from the driver's home to the terminal, or to restaurants in the vicinity of en route lodgings would not alter the situation unless the vehicle is laden [i.e., loaded]. A driver may not operate a laden CMV as a personal conveyance. The driver who uses a motor carrier's CMV for transportation home, and is subsequently called by the employing carrier and is then dispatched from home, would be on-duty from the time the driver leaves home. A driver placed out of service for exceeding the requirements of the hours of service regulations may not drive a CMV to any location to obtain rest.
Only two situations are specifically covered in the interpretation:
A driver's commute to and from the terminal (normal work location)
Short personal trips from a driver's en route lodging.
Using the information that is in the interpretation above and in the definition of "on duty" and the corresponding interpretation found in Section §395.2, the following conditions of personal conveyance can be extrapolated.
The vehicle must be unladen.
Movement is of a "short" distance solely for personal use.
The driver is relieved from work and all responsibility for performing work.
The driver is relieved of all duty and responsibility for the care and custody of the vehicle, its accessories, and any cargo or passengers it may be carrying.
The driver must be at liberty to pursue activities of his/her own choosing.
No work should be done until the driver is ready to return to duty.
What about …
Fueling? Any time spent fueling a CMV or doing any other type of conditioning or servicing of the vehicle must be recorded as "on duty" time, even if it's the weekend and the driver used the "personal conveyance" exception to take the truck home. This is especially true given that the "conditioning" and at least some of the fuel will likely be used for a business purpose, unless the driver can argue that the whole tank was used for personal conveyance.
The 10-hour break? As suggested above, time spent driving "off duty" will count as part of a driver's consecutive 10-hour break. For example, if a driver commutes home in a CMV for 2 hours, rests for 6 hours, and then commutes back to work for 2 hours, it would count as a valid 10-hour break, as odd (and dangerous) as that may seem. Again, this is based on the fact that there are no restrictions on what a driver can do during his or her off-duty time, as long as the driver is truly "off duty."
Authorization? It is ultimately the company's responsibility to authorize or not authorize personal use of the company's CMVs, although the Department of Transportation does not require written authorization. Motor carriers should check with their insurers to discuss coverage issues, and have policies and training in place so drivers know exactly when they can use company CMVs for personal conveyance.
Personal Conveyance and the ELD Mandate
Personal Conveyance is mentioned in the Federal Motor Carrier Safety Administration's (FMCSA) final rule, "Electronic Logging Devices and Hours of Service Supporting Documents," which was published on December 16, 2015, mandating ELDs for most drivers of CMVs that currently log.
The rule says that ELDs may be set up to allow drivers to put themselves in a special driving category called "personal use." When a driver selects this option, the ELD will record the time as off duty until the driver de-selects the option.
The FMCSA didn't set a threshold of distance or time, but officials can and will use the data from the ELD to determine whether the special category was appropriately used by the driver.
This article was written by Rick Malchow of J. J. Keller & Associates, Inc.
---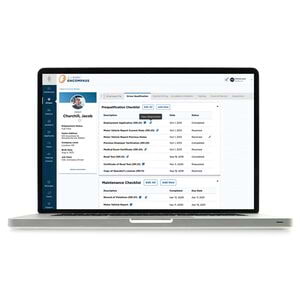 J. J. Keller® E-Logs - Compatible with iPad®, iPhone® and Android™ mobile devices. Affordable, flexible options from the nation's most respected transportation solutions provider.
---
J. J. Keller's FREE Transportation SafetyClicks™ email newsletter brings quick-read safety and compliance news right to your email box.