Final rule allows states to drug test before granting unemployment compensation
Posted August 4, 2016
The Employment and Training Administration (ETA) issued a final rule to establish criteria for permissible drug testing of applicants for state Unemployment Compensation (UC) programs. These regulations implement the Middle Class Tax Relief and Job Creation Act of 2012 (the Act) amendments to the Social Security Act (SSA).
The final rule permits states to drug test UC applicants as a condition of UC eligibility under two circumstances:
If the applicant was terminated from employment with the applicant's most recent employer because of the unlawful use of a controlled substance.
If the only available suitable work (as defined in the law of the state conducting the drug testing) for an individual is in an occupation that regularly conducts drug testing (as determined in regulations by the Secretary).
If an applicant who is tested for drug use under either circumstance tests positive, the state may deny UC to that applicant.
The final rule is effective September 30, 2016.
---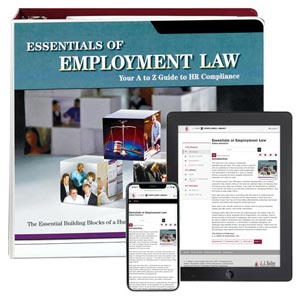 J. J. Keller's Essentials of Employment Law Manual covers more than 100 vital HR topics, including FMLA, ADA, HIPAA, FLSA, COBRA and more.
---
J. J. Keller's FREE HRClicks™ email newsletter brings quick-read human resources-related news right to your email inbox.