Yes, FMLA forms expired. Don't panic!
Posted July 14, 2023
When an employee puts an employer on notice of the need for leave, the federal Family and Medical Leave Act (FMLA) requires employers to give employees certain notices. Employers may also ask that employees have certification forms completed and returned to support the need for leave. All these documents currently have an expiration date of 6/30/23.
Employers may, however, continue to use the notices and forms beyond that date.
Why did these forms expire?
The content of the information contained in the U.S. Department of Labor's Wage and Hour Division's (WHD) optional-use notices and certification forms is still applicable, regardless of the expiration date.
The expiration date on the WHD documents is related to the collection of information as required by the U.S. Office of Management and Budget (OMB) and is not relevant to the content of the forms.
Must employers use these forms?
While employers must give employees an eligibility/rights & responsibilities notice and a designation notice, the FMLA does not require the use of any specific form (or format) for them, including the WHD models.
Employers may use the WHD's models or create their own versions containing the same basic information.
Many employers don't want to reinvent the wheel and use the WHD model notices and certifications because these forms:
Comply with the FMLA,
Don't include any prohibited questions, and
Include all information that employers must give to employees.
Employers are not required to request that employees provide certifications, but may do so, except when the leave is strictly for bonding with a healthy child.
This article was written by Darlene Clabault of J. J. Keller & Associates, Inc.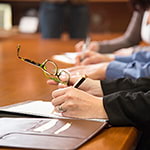 Looking for more on HR compliance?
Get the information and products you need to stay on top of industry changes and comply with regs.