OSHA releases warehouse emphasis program
Posted July 14, 2023
A new OSHA National Emphasis program (NEP) targets warehousing and distribution center operations, mail/postal processing and distribution centers, parcel delivery/courier services, and certain high injury rate retail establishments. National Emphasis Program on Warehousing and Distribution Center Operations, CPL 03-00-026, took effect July 13 and will remain in effect for three years. Inspections will begin after a 90-day outreach period.
Inspections under the NEP will focus on workplace hazards common to the above industries including, but not limited to:
Powered industrial vehicle operations,
Material handling/storage,
Walking-working surfaces,
Means of egress, and
Fire protection.
Heat and ergonomic hazards also will be considered, and health inspections may be conducted if OSHA learns that such hazards are present.
All inspections under the NEP are comprehensive safety inspections, except for high injury rate retail establishments, which will be partial inspections focused on storage and loading areas; however, OSHA may expand an inspection's scope when evidence shows that violations may exist in other areas of the establishment.
This article was written by Rachel Krubsack of J. J. Keller & Associates, Inc.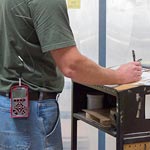 Looking for more on workplace safety?
Get the information and products you need to stay on top of industry changes and comply with regs.