Move over Brake Safety Week and Roadcheck — It's Operation Safe Driver Week!
Posted July 14, 2023
Operation Safe Driver Week 2023 is officially underway! Running from July 9-15, the Commercial Vehicle Safety Alliance (CVSA) uses this event to put officers out on patrol, focusing on unsafe driving habits in the U.S., Mexico, and Canada.
More officers on the road mean more potential for citation, so now's the time to practice safer driving techniques and banish bad habits, for good.
Operation Safe Driver 2023 focus: Speeding
This year's campaign is focused on speeding. But officers are also on the lookout for commercial motor vehicle (CMV) drivers who:
Drive while distracted,
Don't obey traffic signs and signals,
Follow other vehicles too closely, and
Use restricted lanes.
Non-CMV drivers aren't off the hook either. This year, officers are watching all roadway vehicles for unsafe driving habits.
Defensive driving done right
The best way to navigate Operation Safe Driver Week is for drivers to consistently drive safely, compliantly, and most importantly, defensively. Good defensive driving means:
Knowing how to visually scan all surroundings,
Knowing how to anticipate and avoid potential hazards,
Being aware of the surrounding traffic, and
Expecting the unexpected.
Well-trained CMV drivers know how to obey traffic laws, speed limits, and lane restrictions while safely maneuvering the roads. These core skills are essential not only to getting through this week-long event citation-free, but also to being expertly prepared to handle any situation.
Are you prepared?
It's never too late to be ready! The purpose of Operation Safe Driver is to help emphasize the importance of safe driving while identifying drivers who struggle to follow the rules.
Trainers can prepare their drivers by looking out for signs of unsafe driving like accidents, vehicle abuse, violations, complaints, or citations. Drivers with this history may need counseling or retraining before getting out on the roads.
This article was written by Lucero Truszkowski of J. J. Keller & Associates, Inc.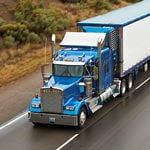 Looking for more on transportation safety?
Get the information and products you need to stay on top of industry changes and comply with regs.