Improper notice dooms employee's FMLA leave
Posted July 7, 2023
The Family and Medical Leave Act (FMLA) entitles eligible employees to unpaid job-protected leave for qualifying events, such as baby bonding. Generally, however, employees can be required to follow company notice policies when requesting leave. The employee in the following case learned this lesson.
Case in point
About a year after Steve was hired, he informed Kevin, his boss, that he was going to be a father in about six months (January 30).
The company's FMLA policy required employees to contact its third-party leave administrator at least 30 days before leave began. The leave administrator informed employees whether they were eligible for leave.
The company also had a paid parental leave policy allowing employees to take up to 16 weeks of paid leave, running concurrently with FMLA leave, due to the birth of a child. Like the FMLA policy, employees had to:
Provide written notice by email to the employee's manager regarding the expected start and duration of the leave, and
Contact the third-party leave administrator to initiate a formal leave request.
Discussion, investigation, termination, suit
Steve emailed Neil, an administrative assistant, regarding leave for the birth of his child. Steve wanted to take paid time off (PTO) January 23-29, 2020, and then start parental leave on January 30, 2020. Neil notified Steve that his PTO and parental leave requests had been approved.
Steve, however, never communicated directly with his boss, Kevin, about the leave details.
Meanwhile, Steve's employer investigated some of his actions that violated the company's ethics policy. After the investigation, a company HR representative recommended terminating Steve. As such, the company terminated Steve on December 3. He sued, in part for FMLA retaliation.
Court ruled in employer's favor
The court found that Steve did not actually request FMLA leave because he:
Did not follow the employer's usual and customary procedure for requesting leave,
Never contacted the third-party administrator about his request to take paternity leave, and
Did not look at the FMLA policy or its requirements.
Carter v. TD Bank, N.A., District Court of Connecticut, No. 3:20-cv-01616, June 5, 2023.
This article was written by Darlene Clabault of J. J. Keller & Associates, Inc.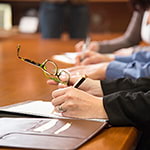 Looking for more on HR compliance?
Get the information and products you need to stay on top of industry changes and comply with regs.